The mission of Friends of Nepal Pariwar Foundation is to improve the health and well-being of women and their families in rural Nepal by supporting a network of registered nonprofit community organizations in Nepal and strengthening their capacity to sustain and expand health services and support development, particularly improved drinking water and educational opportunities, in remote and underserved communities.
Friends of Nepal Pariwar Foundation is a registered nonprofit, charitable, 501(c)(3) organization. Tax ID Number: 26-1246116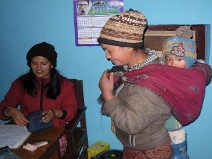 Follow us on Facebook (@friendsofnepalpariwar).